PICO CLUB FLY-IN's
The club organises the Milbrulong fly-in in September every year. All pilots are welcome, you don't have to be a club member nor do you require a special invite. You dont have to be an experienced pilot either, we especially welcome pilots who are new to the sport and also those who are not yet pilots but keen to come and see what all the fun is about.
Passionate About Powered Paragliding.
COME FLY WITH US

The "MILBRULONG" PPG/PHG/PPC Fly-In
19th - 22nd SEPTEMBER, 2019 - Milbrulong, NSW
The PICO Annual PPG Fly-In is the original and biggest PPG fly-in in Australia. It attracts pilots from all over Australia and sometimes overseas as well. You can also see all the latest gear there, from wings to motors to accessories. There is usually also plenty of spare parts to add to your toolbox if necessary. The area is outstanding for XC trips from 20km to well over 150km.
For more information: THE PICO CLUB FACEBOOK
.......... ............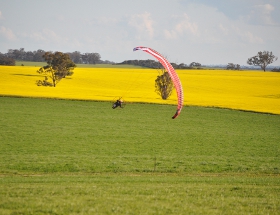 Where You Can Fly

As we are aircraft we are limited as to where we can legally launch, land and fly. Here's some info to help you select the right places.

More Info

Club Flying Mates

It is always a lot more fun to fly with someone than on your own, you can share stories and you can keep an eye out for each other in case you have to "outland"

Select

Links

Here are some links to paramotoring information including weather sites and media. As well as a list of Australian PPG clubs.

Select